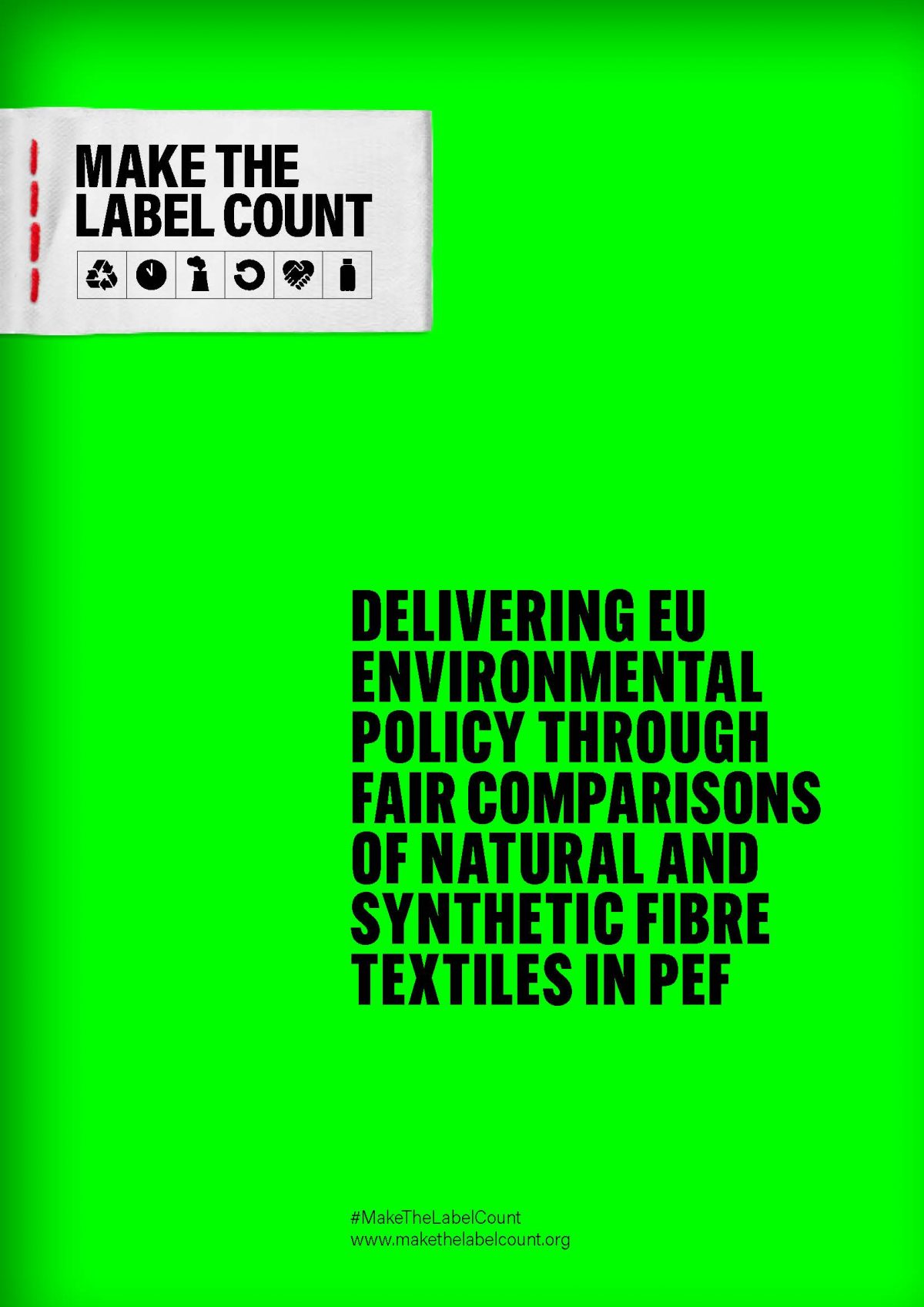 Make the Label Count Campaign: Simon J. Clarke, Ingun G. Klepp, Kirsi Laitala and Stephen G. Wiedemann.
Summary
Sustainability has become a priority objective for the European Union (EU). It is a key driver for policy development through the global leadership role the EU has taken in addressing climate change, decoupling economic growth from resource use, and the sustainable use of
resources. The global supply of textiles has been recognized by the EU as a major source of emissions and resource use; the sector has become increasingly reliant on fossil feedstocks to supply synthetic fibres, and the textile industry has been roundly criticised for unsustainable and non-circular consumption patterns.

The Product Environmental Footprint (PEF) system – which assesses a product's environmental impact and provides consumers with information on that impact – has the potential to be paramount in directing the textile sector towards a sustainable system of production and consumption. However, the PEF system has not been designed to deliver the EU's strategies and, without amendment, its application to the textiles sector risks undermining the EU's laudable intent. The PEF system is designed to facilitate like-with-like comparisons, but assessment of textiles made from natural and synthetic fibres are not yet comparable because the impacts of forming natural fibres are fully accounted for, but omitted for fossil fuels. The single biggest sustainability issue for the textile industry is the growth in synthetic fibre production and the causally related rise in fast fashion. A PEF-derived comparison will not challenge the over-consumption of resources, and risks legitimising unsustainable consumption with an EU-backed green claim.

These limitations present a significant challenge to the delivery of both EU strategy and the PEF goal of providing fair comparisons of products based on their environmental credentials.

In combination, the characteristics of the textiles category, together with the limitations of PEF methodology, provide a strong argument for not comparing textiles made from renewable and non-renewable raw materials. However, achieving the EU Green Deal and circular economy objectives mandates a pragmatic approach; hence our analysis recommends methodological improvements to deliver EU environmental policy through fair comparisons of natural and synthetic fibre textiles in PEF. Addressing these limitations now will avoid
the same problems arising when PEF is applied to other product categories that compare renewable and non-renewable raw materials, such as furniture and fuel.