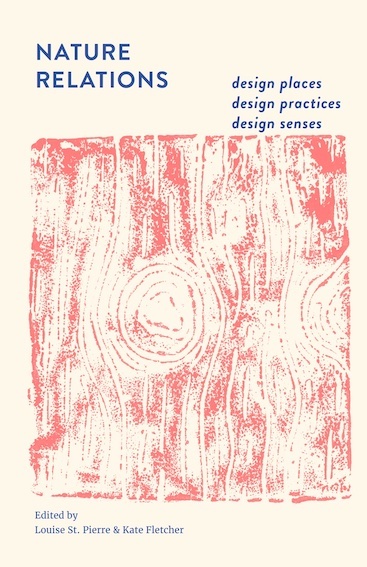 A new, limited-edition publication, edited by Kate Fletcher, Research Professor at SIFO, and Louise St. Pierre, Associate Professor at Emily Carr University in Vancouver, has been published, exploring design places, practices and senses – all in the context of how we relate to nature.
According to the book-blurb, Nature Relations (Occasional Press, 2023) explores light, sensory and vicarious experiences that deepen the relationship between design and nature. Its focus is a body of practices of design and nature that examine nature relations as a form of inquiry for designers and that build understanding and terminology along the way. It draws on some of the workings and findings of the Nature Relations Platform pilot project and its experiments around key themes of design and nature.

The publication is playful, colorful and easy to read – teasing out new way of seeing and understanding one's surroundings and how to interact in a more meaningful way with nature. How we walk on the ground, how we talk to a tree, how we feel the elements – and thus how we can design better for those interfaces. The book opens up the field, without closing it down with examples of design-solutions, which could easily limit the reader's understanding.

Demanding an open mind, alongside an expanded understanding of decentering, witnessing and embodied research, the publication is slightly mind-boggling. But offering visual candy in the form of fonts and electric colors, a sensory over-dose because of the paper-quality and a page-turning appeal based on surprises around each corner – a lot is packed into 70 pages.
The Nature Relations Platform project was a research project led by Louise St. Pierre and Kate Fletcher. Field researchers spent time in nature, and reported their findings in various modes such as audio recordings and sensory workshops.
The Team comprised:
Field Researchers: Louise St. Pierre (Vancouver, Canada), Kate Fletcher (Macclesfield, UK), Caro McCaw (Dunedin, New Zealand), Zach Camozzi (Naniamo, Canada)
Design, Development, and Workshop Creation: Melanie Camman, Giulia de Oliveira Borba, Yejin Eun, Eden Zinchik.
The Nature Relations book is currently available in print as a limited edition.