Travel letter Uruguay December 2022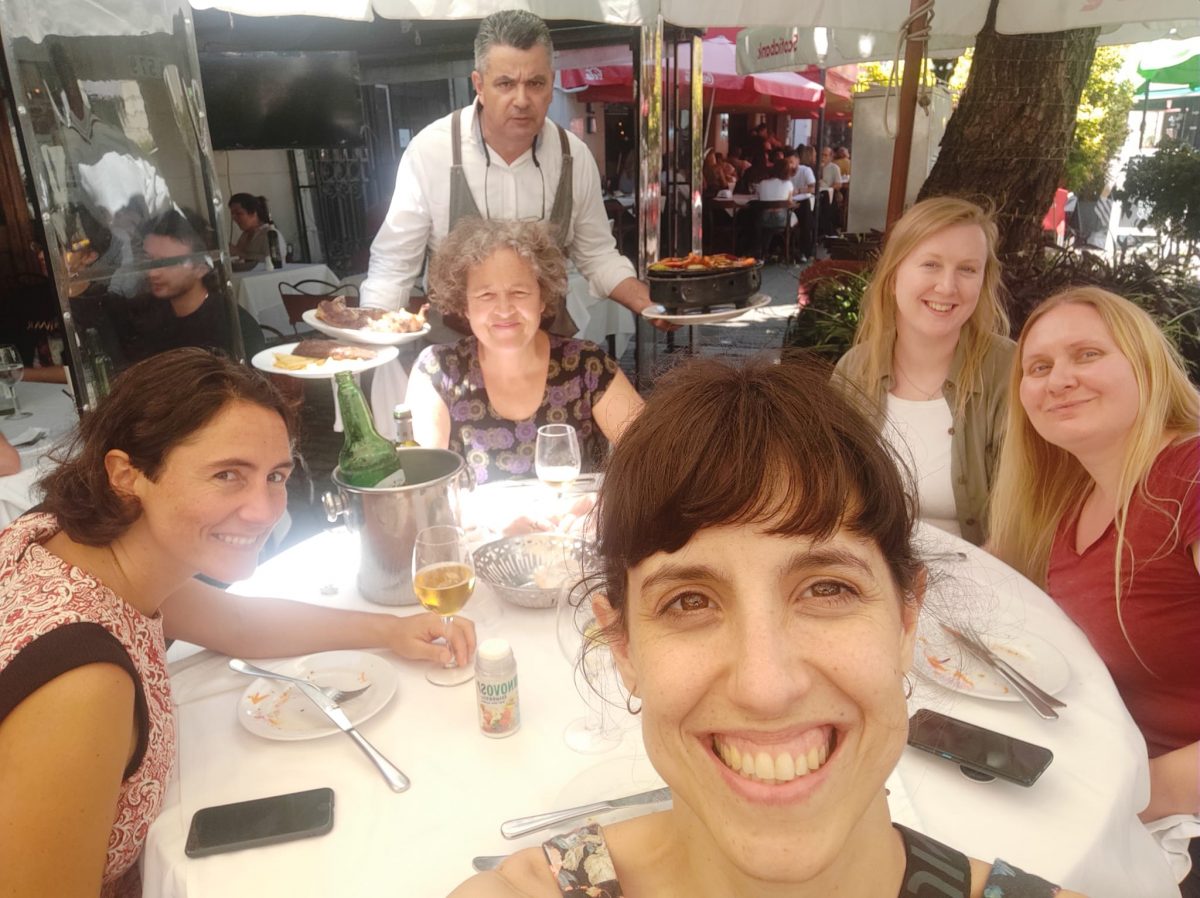 In the middle of Advent 2022, Vilde, Kirsi and Ingun traveled to Uruguay. Irene was already there with her family, and the trip was well planned in collaboration with Irene, who lives in Portugal, but is from Uruguay, and Lucrecia who works in Montevideo. Part of the background for the trip was the testing of the wardrobe method that had been carried out in Norway, Portugal and Uruguay. This was with good help from students there who also actively participated in a seminar. Text Ingun Grimstad Klepp
Warm reception in a warm country
We spent the first weekend planning the seminar on clothing and the environment which was to take place on Monday and Tuesday, as a collaboration between CHANGE and the local university. On Sunday we went for a long walk in the city where large parts of the streets were filled with a market. Here, most things were for sale, from pets such as rabbits, hamsters and tropical fish, to objects that we would hardly have found a market for in Norway, such as remote controls, parts for electronics, eye glasses, etc. There were some new clothes, mostly of a simpler nature and many used clothes. There was very little textile craftsmanship to be seen with a couple of exceptions of crocheted stuffed animals and toddler clothes.
We also visited various shops for used clothes, both permanent and pop-up shops. The system for reselling clothes was quite different from Norway, where humanitarian organizations' collection stations are everywhere. There is no public collection of textiles, nor "textile towers" by private humanitarian organizations. In contrast, used clothes are sold in the markets. Some of the clothes that were sold in the second-hand shops were bought at the market and then they were resold somewhat more expensive.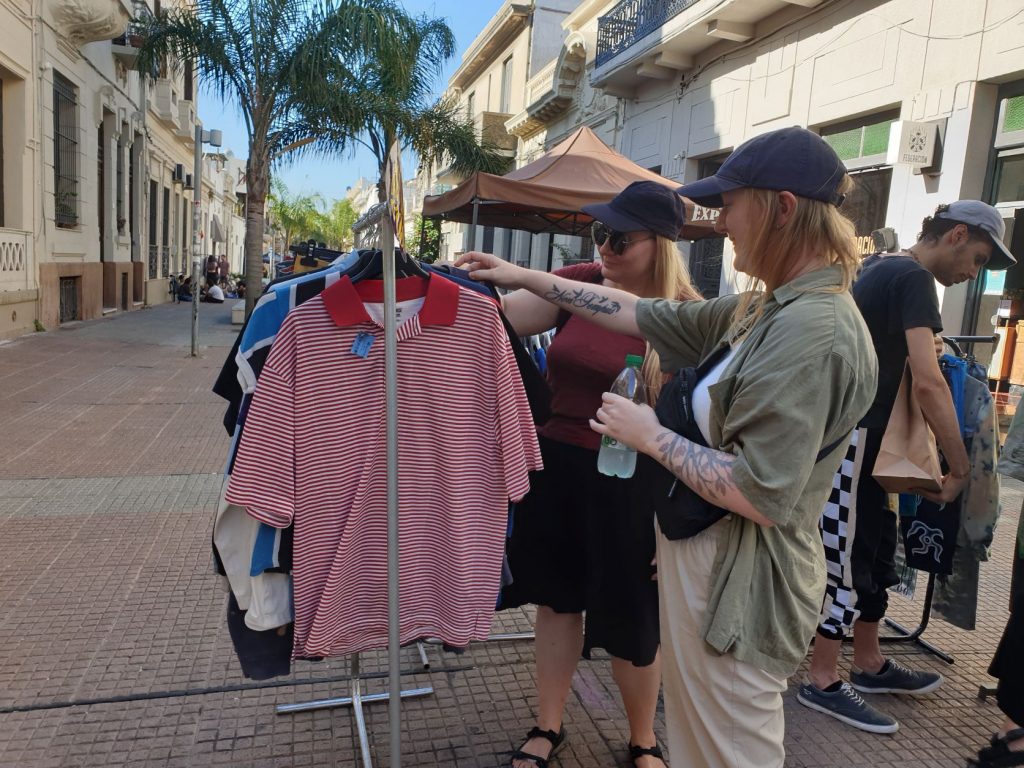 The extensive reuse of most things that we experienced on this first day was confirmed again and again in everything from interiors and buildings to bicycles. We were given various explanations that ranged from a mentality among most people, to politics and economics. Being content with what you have and not always wanting something else and more, was central. Uruguayans are, in their own and others' eyes, a pragmatic people who are satisfied without a lot, as long as they have their "matte", the local green tea that is drunk hot everywhere, most carry a thermos under the arm.
Another explanation was that the political investment in sustainability, for example in the form of large-scale conversion to renewable energy, was so central. The last explanation has to do with economics and economic differences. More poverty, and also more difficult economic conditions for the middle class, was repeated by several. That lower costs for labor compared to new products affects the amount that is reused and repaired is almost self-evident, but it was interesting to have several and more complex explanations for the same phenomenon.
CHANGE Seminar at The Faculty of Architecture, Design and Urbanisme FADO
On December 5th and 6th, the Uruguayan partners in the CHANGE project organized a seminar in Montevideo. Prácticas de diseño y consumo de indumentaria: Miradas y acciones hacia un desarrollo sustentable. (Read more in Spanish here.) Some of the project's researchers from Norway and Portugal exchanged experiences with the local community. The seminar took place at the beautiful building of the Faculty of Architecture, UdelaR, and was organized by Lucrecia de León and Lucía Lopez from the local Industrial Design School.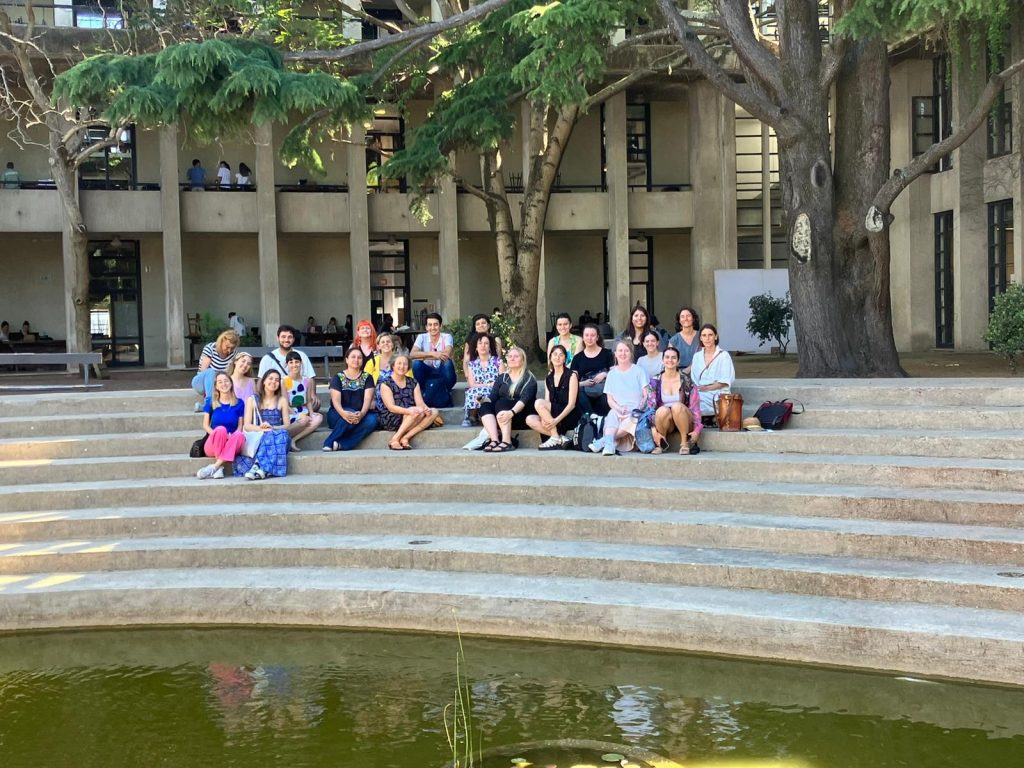 Just coming to this building was an experience in itself. FADO is one of the sixteen faculties that make up the University of the Republic. The building is from 1948, its headquarters were inaugurated on Artigas Boulevard, in the Rodó Park of the city, it is one of the most characteristic buildings of the city of Montevideo, designed by the architects Román Fresnedo Siri and Mario Muccinelli. They had just completed an extension and we were in a newer part of the faculty. Among other things, apparel was taught – and therefore not fashion as in many design schools. This probably also contributed to the fact that professionally it was easy for us to "find the tone" with teachers and students there.
During the first day, speakers shared local experiences and efforts to reduce the environmental impact of the sector. These included perspectives from the academic, public, and private sector. There were both teachers, students and entrepreneurs among the approx. 50 the audience.
Federico Baráibar from the Ministry of the Environment talked about local data and policies and the lack thereof. As many other places, there is actually not much focus on clothing in environmental politics. He spoke mostly about textile waste in the management and policy of waste in Uruguay. He presented what they know about different types of textile waste. An estimate is 20-30 000 tons of textiles household waste in Uruguay per year. Not surprising, there is more focus on plastic packaging. Compared to other waste streams, textiles as a product group, is small and does not receive particular attention, policies usually emerge based on actual problems. In his opinion, it is difficult for a country in development to let a government interfere in private consumption to reduce consumption and waste production.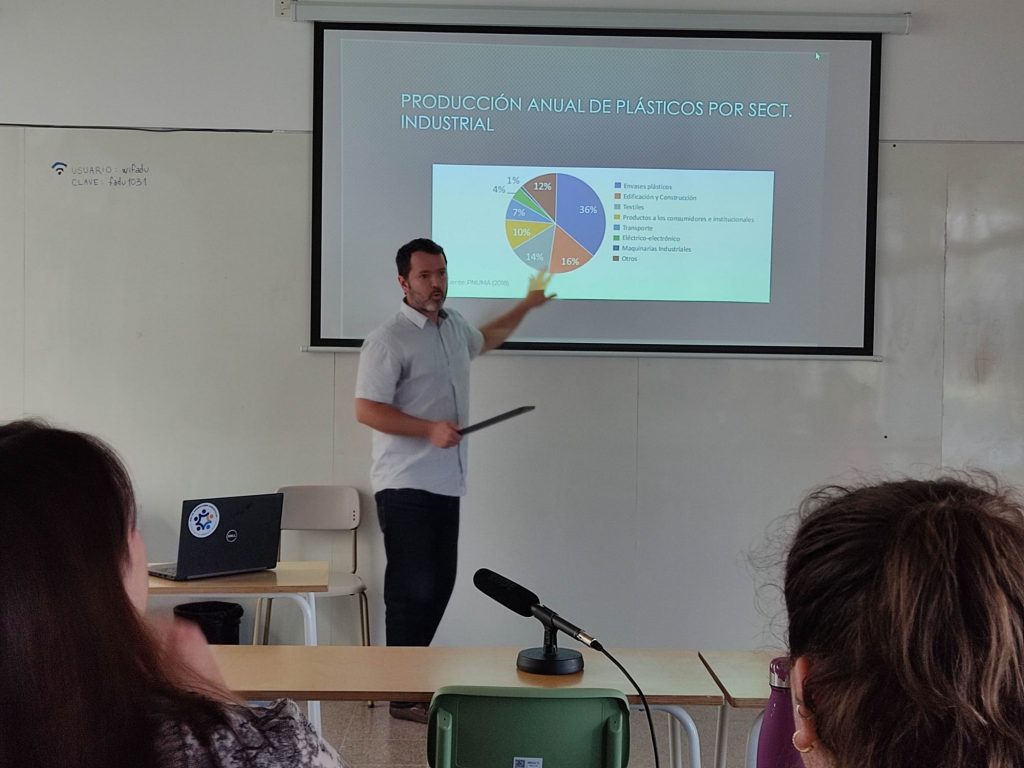 In 2019, they had a new policy where they wanted to apply 1000% tax on certain disposable objects, but it was not passed, so they there will be added 180% tax in a law (not yet applied). Tax was also the way import of second-hand textiles was regulated. It is not banned to import second-hand clothes to Uruguay, but just that the taxes paid are the same as for new clothes. We did hear from others several times that only Chile allowed import of used clothing, but it is possible that this was import without tax they then meant. There is doubtless a lot we do not know about the policy for used apparel in Uruguay, South America (and other places), and very interesting that ban is not the only way to restrict and reduce.
Lucía López, EUCD (Institute of Design, University of the Republic Uruguay,) presented her Project #textourgente, which uses textile upcycling and print as a way to activate social change and attitudes towards clothing. Her focus is upcycling as a way to activate the user as opposed to the passive user. She used text printed on clothes as a means to upcycle and generate reflection, in order to help people to wear a previously owned garment with pride. She explained how emotional design depends on the personal approach of the designer and the target group, what is emotional cannot be standards, but must emerge from the community that is engaged.
Sofía Dinello presented her thesis about active life of clothing and emotional design and Gabriela Pintos (FCEA) shared her view about consumer behavior in a circular economy from the perspective of economic theory.
In a second session focused on action, Renata Casanova presented the circular economy program of Ceprodih, an NGO dedicated to support women in a vulnerable social position. They use donated textile in teaching sewing and entrepreneurship. Much of what they work with is reutilization of PVC plastics. This was done in textile workshops, making accessories that they sell through the workshop and collaborate with a network of entrepreneur women in circular economy programs. They work with businesses and hospitals, and the waste they generate. What their partners could not themselves use, was transformed. In this way logos and colors could be kept and used. We visited this company a few days later and had the opportunity to discuss with her. More under Day 2.
Josefina García and Laura Moreira shared their efforts towards circular design in the local denim brand Rotunda, This was ambitious work with creating guidelines for circularity in design with jeans. Based on design and circularity principles from Ellen MacArthur. They emphasize durability: first guideline of denim is to be in perfect condition after 30 washes. Screen print washing instructions on the pockets instead of tags to not lose the information. 80 % of fibres are organic cotton and 20 % is recycled cotton. They emphasize trims, not using the processes that requires chemicals, raw colors of the metals, the latter is hard without changing the look of the jeans. Trying to overcome the things that are associated with jeans, but not necessary. This includes buttons and other things that can be taken off. They had a pilot project with a RFID label with a QR code for information for the consumer stage and forward. Aim is for each item to have a personal code.
Alejando Esperanza presented their rapidly growing resale business VOPERO, an app used for resale of second-hand clothes that look like new. The most surprising with this concept is how it differs from other reuse-apps. Here there is little «ideology», rather an emphasis on volume. VOPERO employs 140 people. They approve about 50% of garments that are sent to them. The remainder is either returned to the owner or donated to local companies, if the owner does not want it back. They add about 1500 new garments to the app each day. Everything they sell must go through a quality check, but the inspection of each item must take less than 30 seconds to be cost-effective. The company does not wash or have time for significant repairs. One of the reasons for not accepting garments is related to smell. He explained that many customers are people that do not normally buy second-hand items but can save a bit of money by selecting things that still look like new. Quality photos of the accepted items is important and the price is about 20-30% lower than a similar new item, so they prefer brands that are recognized.
After his presentation, there was a lively discussion. Many people thought a lot about whether it was right or not to sell only clothes that looked new – as used. There was a great deal of what they received that they did not want to sell and which they then donated further internally in Uruguay. The discussion and the temperature in it were interesting in themselves. Why does this arouse so much opposition? Why must used clothes also be part of a "used" style? It is also a question of whether similar concepts exist elsewhere and whether this will eventually be exported.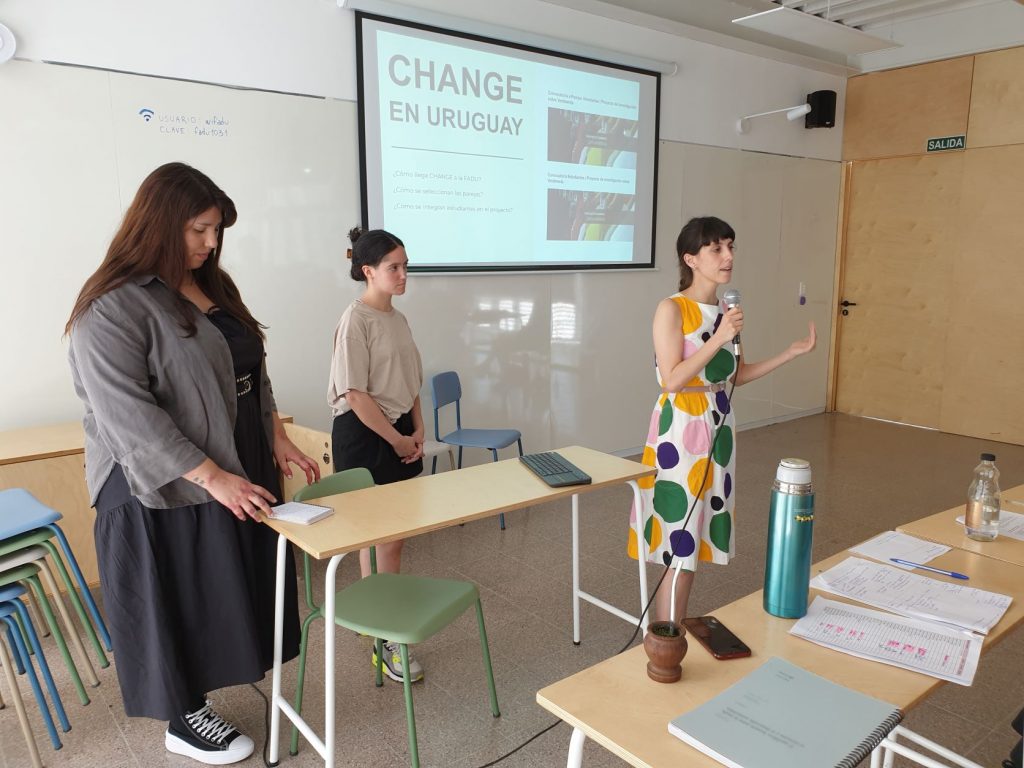 During the second day, focused on wardrobe studies as a tool to understand clothing consumption in the context of the environmental crisis, international and local CHANGE researchers shared their past and current research supported by wardrobe methods. These included:
Lucrecia de León (Wardrobe metabolism) presented her Master's thesis work that was started by analysis of the wardrobe metabolism of two women, herself and another student. Later, the analysis was continued to a larger sample of similar women. 20 women started but only 8 finished. Some findings were that the new clothes were used more frequently and about 10% of items were unused. During the second week, wearing the clothes was planned, and inactive garments from the "RAM memory" were tried to be taken into use. Some garments were not possible to get activated, for example due to size.
Ingun Klepp (Wardrobe studies: History and variations) talked about the history of wardrobe studies as a method and gave examples of different methods that had been used at SIFO.
Kirsi Laitala (Wardrobe audits: Asking people what they don't know) presented a method for the quantitative version of wardrobe studies, often called wardrobe audit. She introduced some advantages and disadvantages of the method and presented suggestions for improving the quality of collected data. Some examples from the international wardrobe audit were given to illustrate some of the points.
Vilde Haugrønning (Wardrobes in Change: Counting garments based on occasions) gave an overview of the field work she is doing in her PhD.
Irene Maldini (Assessing the impact of sustainable design strategies through wardrobe methods) held a lecture that many design school would find highly useful.
The next session was dedicated to Wardrobe methods in Uruguay, which included both already carried out studies, and plans.
Micaela Cazot, Lucrecia de León and Valentina Viñoles talked about the work with the pilot for CHANGE in Uruguay. Micaela Cazot and Lía Fernández (Identifying good practices of use: Reflections on the consumption of Slow Fashion in Uruguay) explored the plan for field work among people who themselves define their consumption as sustainable. The two were concerned with the wardrobe method's possibilities also for self-reflection. Finally, Valentina Viñoles spoke about plus-size women's wardrobe (Analysis of the coexistence between functional requirements, personal identity and social expectations).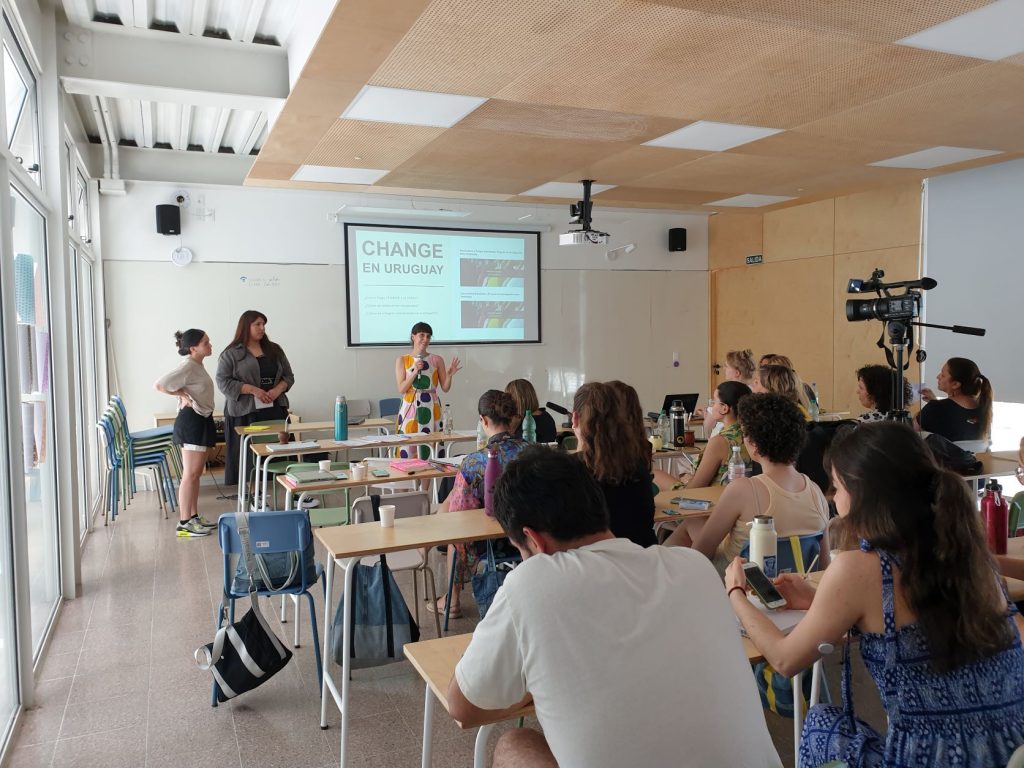 The rest of the day was organized as a workshop with tables set up, where we could all choose different topics for discussion. This worked very well, despite the fact that talking together took time due to the different language skills we possessed. Spanish and English had to be translated back and forth constantly. But with a good mood and will, important topics such as politics and clothing for deviant bodies, and the development of wardrobe studies in Uruguay, were lively discussed.
This event contributes to the professionalization of wardrobe methods internationally, a central objective of the project, more specifically its work package 4. Students and junior researchers shared their experiences and initiatives using wardrobe methods, and more experienced researchers reflected on recent developments in methodological approaches and opportunities for future studies in the context of the growing social relevance of clothing consumption's environmental impact.
Book presentation in an artisanal market
In the evening we participated in a book presentation at "Ideas +" a popular artisanal market that takes place every December in Montevideo. It also has a book launch every day, and some local music. There was a presentation of one of our colleagues' work "Atinando al ojo del ciclope. La remanufactura y otros modos de accionar nuestras prácticas del vestir". A well-organized market with books, arts and crafts and much more in one, of the city's central parks. On the outskirts, there were also more unorganized markets. After the presentation, we got to see a bit of everything, and again the lack of textile craftsmanship struck us.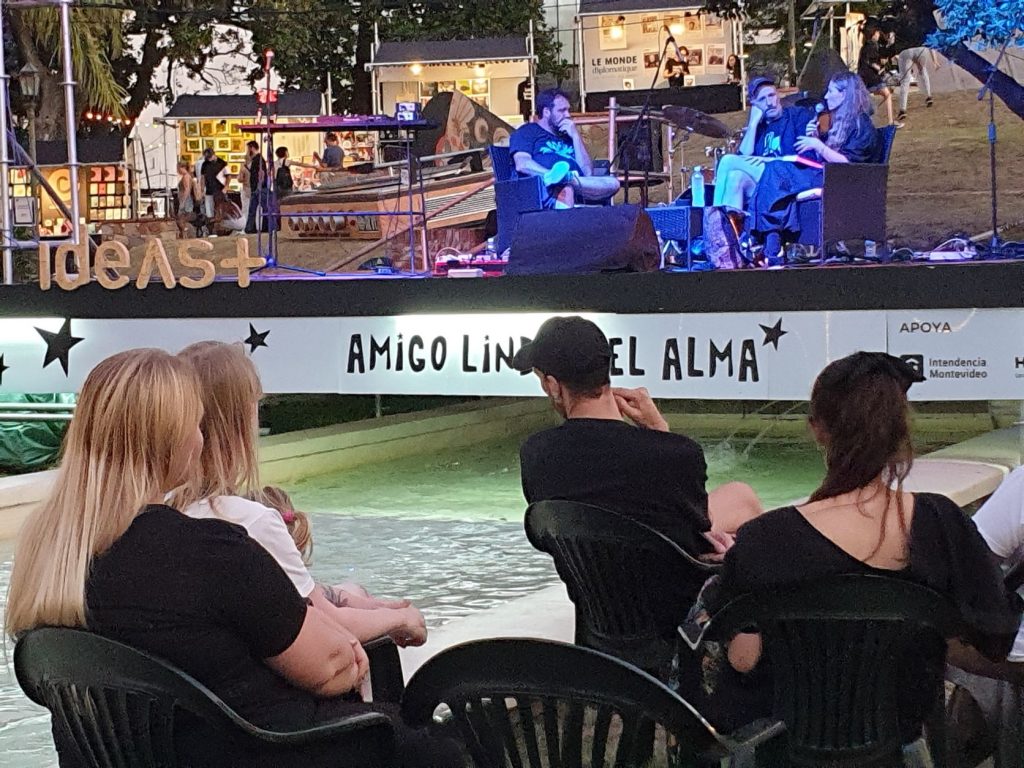 Locally produced textiles from many Latin American countries are dominated by indigenous woven and embroidered colorful clothing. In Uruguay, there is no knowledge of, or traces of, those who lived there before European colonization. It was said that they all died of disease.
Visit to Manos de Uruguay
Wednesday 7th: Manos del Uruguay is a non-profit social organization that since 1968 has given work to women artisans in rural areas of Uruguay. In Manos garments are designed and woven, mainly from wool yarns, for the local market and for prestigious international clothing brands.
Their premises are located in Montevideo, where they have workshops and offices. A lot of work is put into developing new products, as well as controlling the quality of their products, training and administration. There was a large number of different products, both yarn types and woven textiles. The yarn was mainly Merino. It was seen as a problem that there was no major spinning mill in Uruguay. Much of the yarn was hand spun, and some imported. A part of it had a curled-up look almost like unraveled yarns. This produced soft and airy woven textiles. Much of the yarn was hand dyed. We were told that they wanted to produce yarns from coarser, local breeds. The market, especially for hand knitting yarn, was very good, according to our tour guide.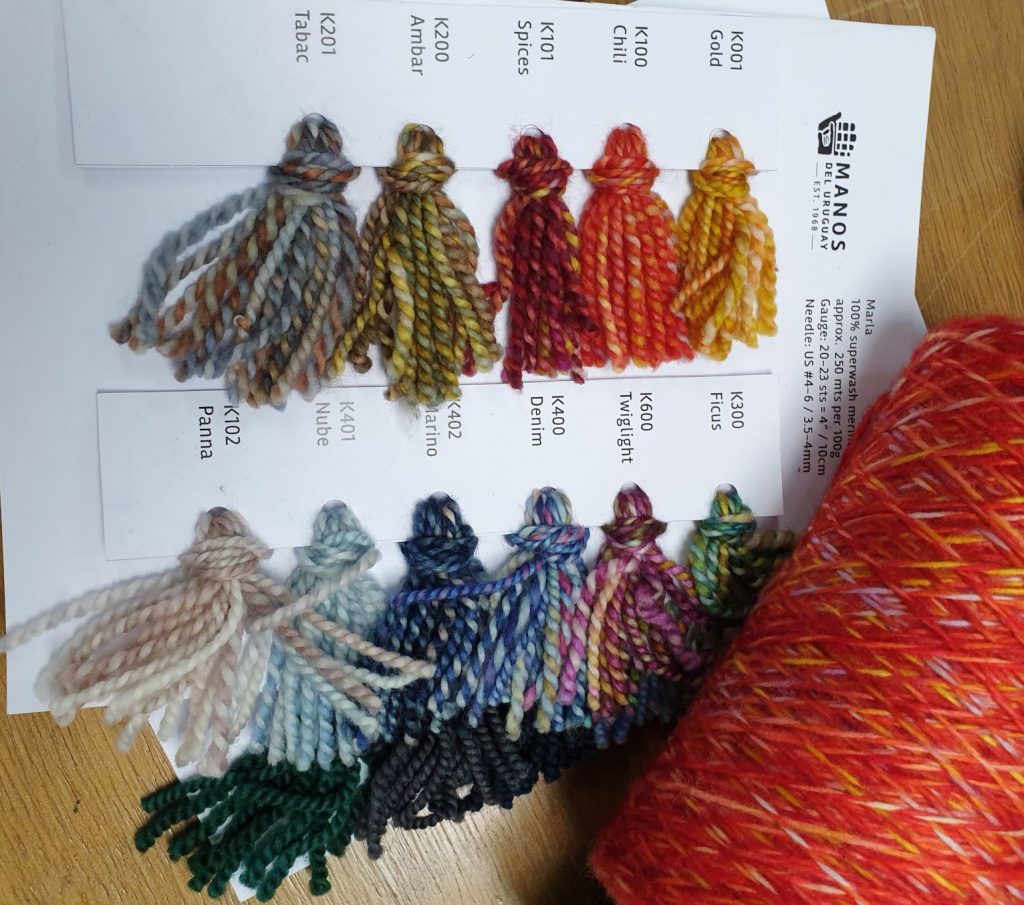 The main product is a simple poncho and the most sold is undyed white. The market for this was both in Uruguay through the companies, but also for export. In addition, they sold to luxury brands as part of their profile. This market was growing and had also changed a bit. Today, companies were more interested in making it clear to customers who was behind the production. Manus de Uruguay added not only to the craft itself, but also confidence in the product.
The market for the products is good. What was a problem, however, was knowledge of crafts in younger generations and also access to suitable looms and yarns. After the tour, we visited one of the shops in the center of town where there was both a sale of leftovers, etc. and a more ordinary shop.
Cerpodih visit
CEPRODIH is a non-profit civil association, founded in Montevideo in 1998, with the mission of assisting and promoting the most vulnerable families, especially women with children in situations of high social risk: unemployment, domestic violence, helplessness during pregnancy. The main objective is to generate concrete alternatives for socio-economic inclusion, so that women who are going through situations of risk can overcome them and manage to effectively join the labor market; managing to be able to support their families with dignity and autonomy.
Here we again met Renata Casanova Sanchez, who had given a lecture on upcycling at the seminar two days before. She gave us a nice tour of large, nice premises with lots of people and resources. There were courses in everything from sewing to running a business; kitchens, childcare and premises for various types of recycling of glass, paper, textiles and plastics. They had their own shop, or "showroom", which displayed a selection of the products. They mostly worked with gifts and profile products for various companies and often with recycling of materials from the companies themselves. As the materials were constantly changing – and also the end product – a great deal of work was put into product development and utilization of materials. It was rarely possible to make many similar products.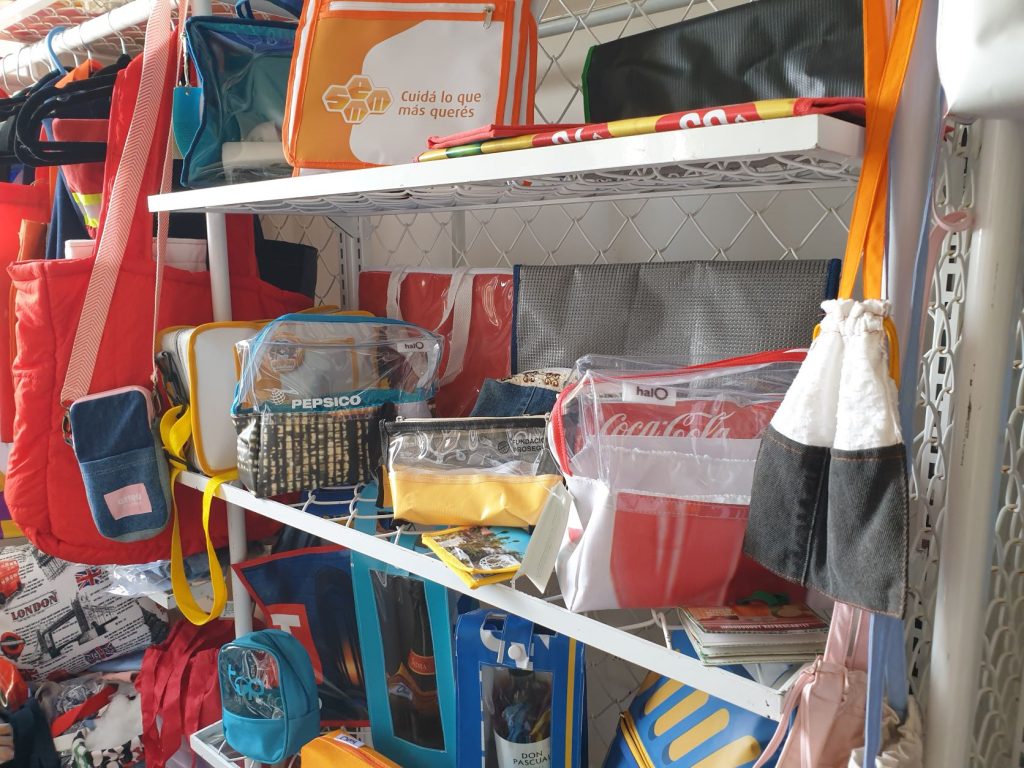 The company's finances were supported by non-profit organizations, and thus only part of the income came from the sale of the products. Nevertheless, the competitive situation for these, very time-consuming products, against mass-produced versions of the same products, was difficult. It was impressive to see how much beauty they were able to get out of waste that we don't normally think of as valuable: Synthetic textiles, plastic and cardboard packaging, and much more. Part of the material consisted of donated clothes, they were also sold partly as resale and partly directly. When we were there, there had been a fire in a warehouse and large quantities of underwear with soot had come in. A group of women went through the goods to check for the possibility of laundering and reselling the underwear. Some of the items had tags cut off, as a way to protect the brand. This also meant that information about fiber and care of the clothes was missing.
Visit to Wool Mill: Engraw
We were given a tour by Frederico Raquet, who runs the family business. He started by explaining investments that have been made to make the factory climate neutral and self-sufficient in everything from energy to water purification. He also talked about all the various environmental certificates that he uses, everything from C2C to Climate Accounting. The water was purified in a separate facility and the remains of lanolin and dirt that could not be used in agriculture nearby were used as water/fertilizer for a planted forest that served as a final purification. Outside at the back of the factory, we saw the various water baths for purification, windmills for energy, all within their own property. Frederico strongly believes in long-term planning and leaving the company – and nature – in better condition for future generations. He also emphasized the well-being of the slightly over 100 employees.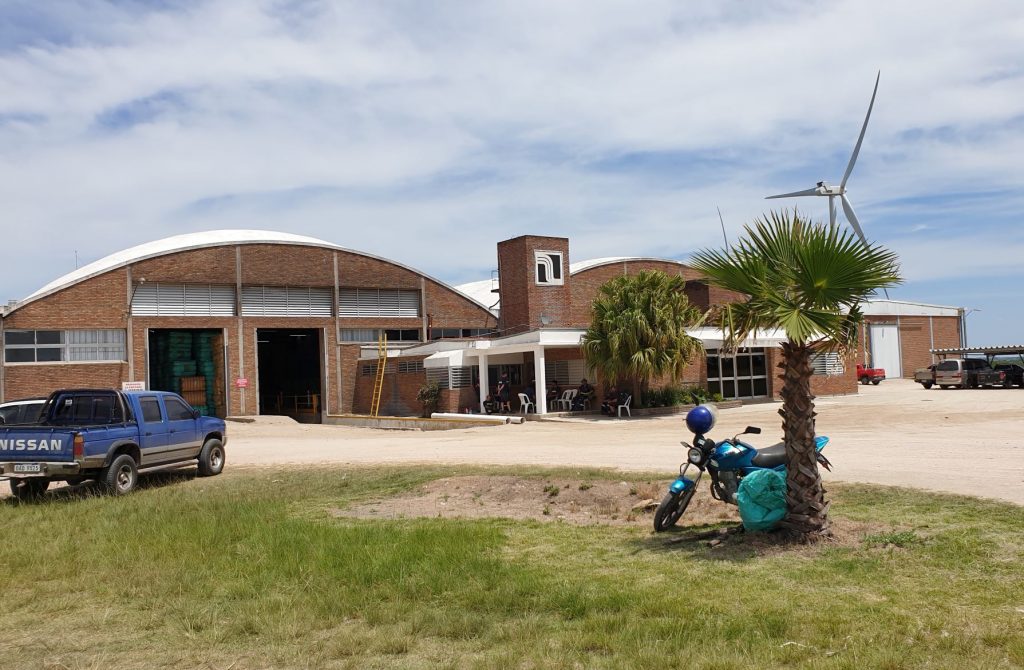 Frederico explained that a large number of different types of grass grew in Uruguay, and that most of the country consisted of grazing land (natural pasture), i.e. not cultivated meadow or plowed land. The large areas were primarily used for cattle, i.e. meat production, but the cattle could not utilize all the grasses. In order to maintain good pastures, the farmers therefore released sheep onto the areas after the cattle had "had their share". Trees were also an important part of this system. Trees provided shade for the animals and helped bind CO2. In this way, meat and wool production in Uruguay will fare well in terms of climate calculations. The animals graze outside all year round, there is no need for buildings or feed-production. Very little of the country's vast plains has been cultivated. With this in mind, it was not surprising that one of the questions he had for us was why land-use is so important – and comes out so badly – in LCA/PEF comparisons. He wanted to know why it was not positive to use the area in a good way, and what would possibly be an environmentally better alternative for using the areas. Good questions.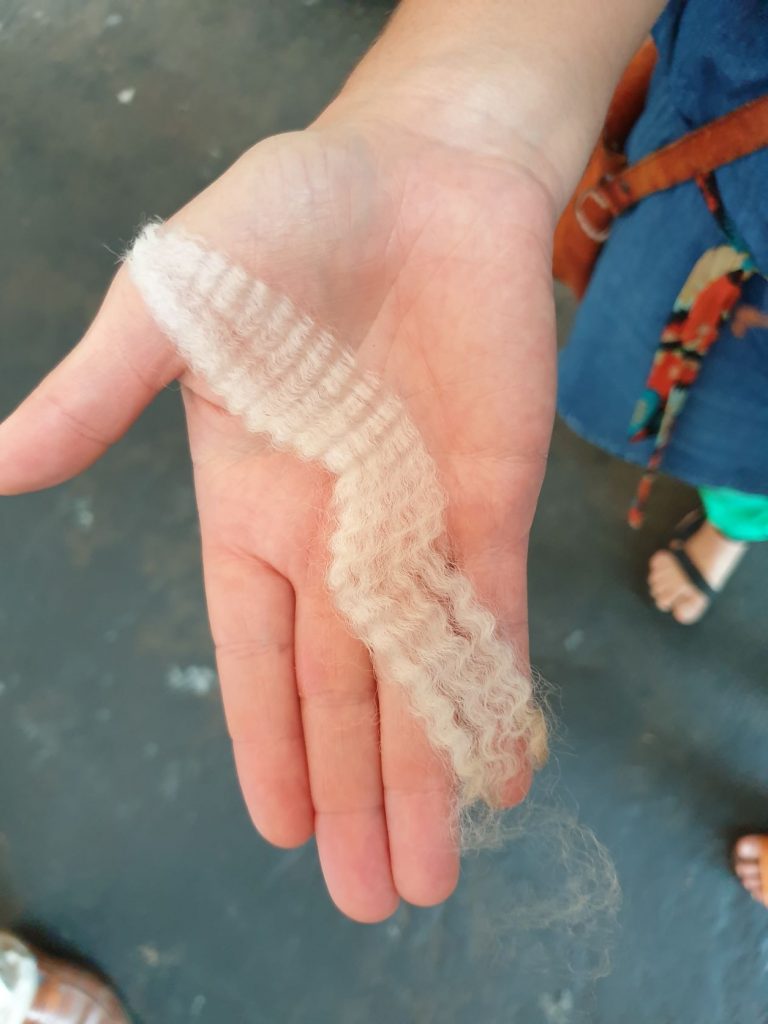 Things were in good shape in the factory. The building itself was impressive with an incredible brick roof structure, neat and clean. He explained the various processes, from the wool entering in large trucks. Much is Uruguayan, both Merino and other breeds with coarser wool, but they also scour wool from other countries, mostly from South Africa. The Uruguayan wool was classified according to a separate wool classification system. Which he himself had learned well and thoroughly before he could move up the ranks in the company. The production itself was always based on specifications from the customer, and could consist of various mixtures. We got to see wool from many countries, and work plans where all customers figured only in codes. But… on this particular day, wool for carpet production in the Middle East whizzed through the machines. What we got to see of Uruguay's own Merino was impressive. Fine, long fibers with good crimp. He believed that there was poor provision for the coarser qualities and that farmers were generally paid too little for wool. He was concerned with new market opportunities for the part of the wool with the worst prices.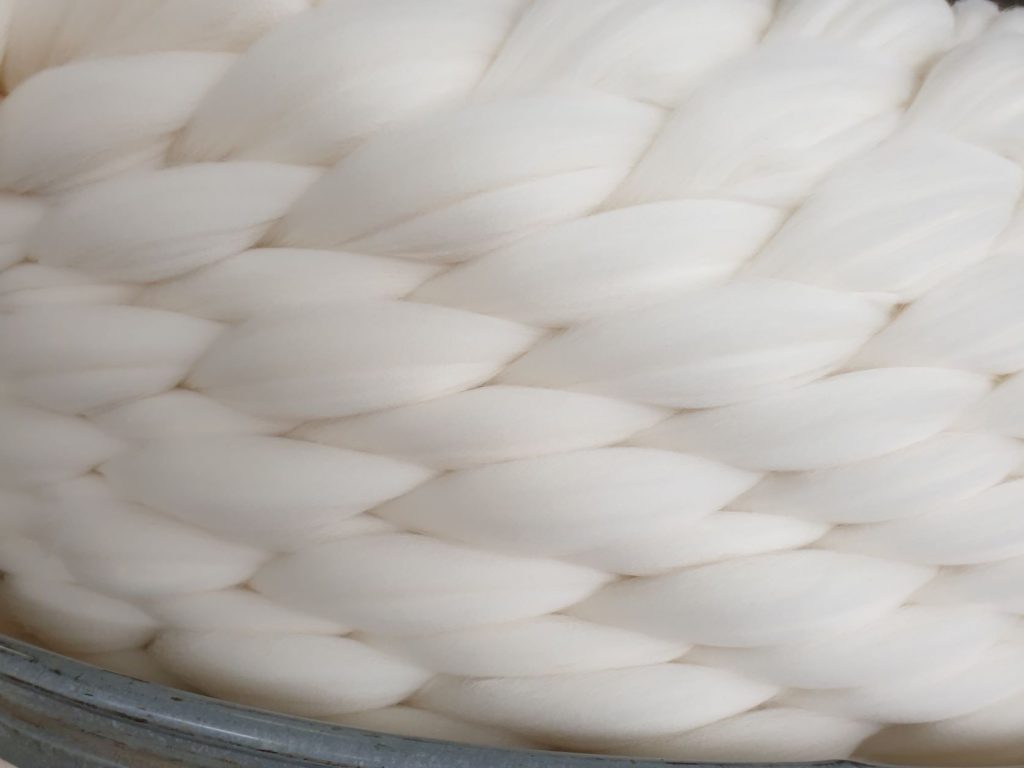 We saw how the wool was mixed, scoured, carded and combed to tops. Some were also super-wash treated. When we got there, he said he would answer ALL questions about super-wash when we sat down afterwards. He thus assumed that we had a lot of questions about exactly this. When we actually sat down afterwards, we talked about this through Ingun rather saying what she usually answers to questions about this treatment. He himself thought it funny that a treatment with inputs that are both well-known and not unusual (chlorine, salt, resin (the same that makes paper glossy) arouses so much attention and resistance.
We used the rest of the time in Uruguay to see the country and talk about the further work in CHANGE. We allowed ourselves to be enthralled by the vast plains, endless beaches and the people's pleasant and relaxed demeanor. The temperature quickly rose to well over 30 – so clothes… well there was a lot of bare skin to be seen and not just on the beach, but also the use of clothes as protection from the sun – a function we rarely have use for here at home.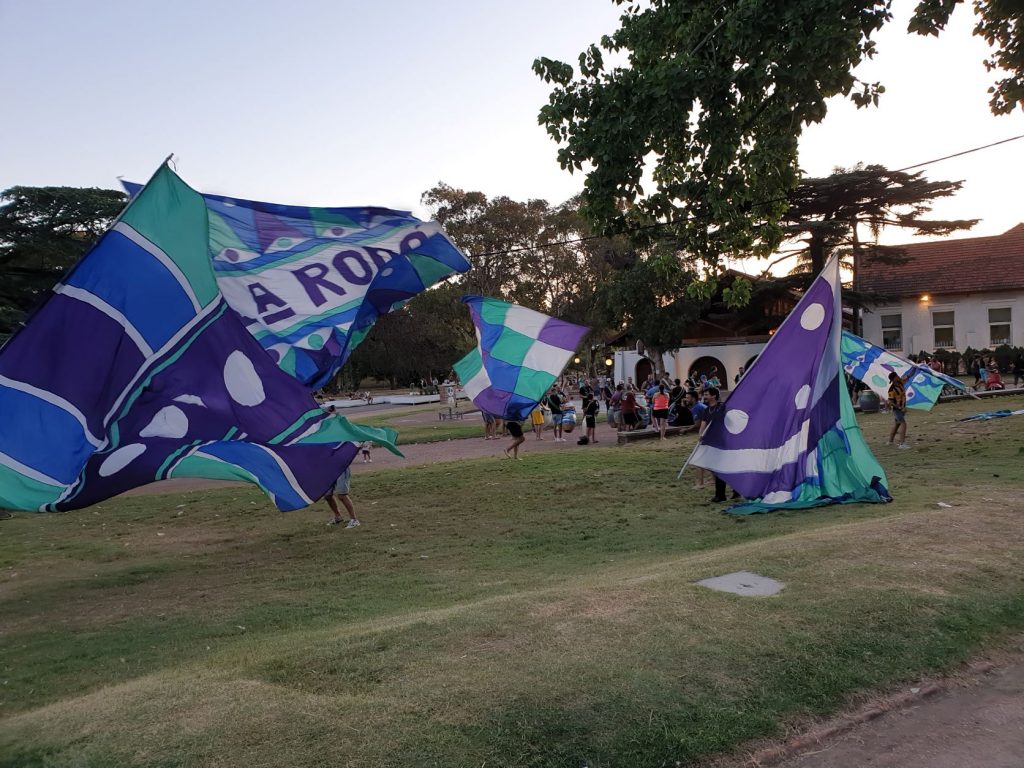 Drums, often in large groups of men, are one of the country's prides, and here too textiles are included in the form of huge flags which are preferably kept flying in time with the music. Another good use for textiles was mosquito netting around the beds. Paradise for mosquitoes, dogs and grass-eaters. Cattle, sheep and shiny, slender horses walked slowly around in large herds and could choose between open, warm plains, some shade from trees, or drinking from ponds of rainwater. We also experienced playful seals, walruses, people and not least waves at the beaches. Something for every taste, in other words.